Pastel Pink Straight Lace Front Synthetic Wig LW238B
Photos From Our Customers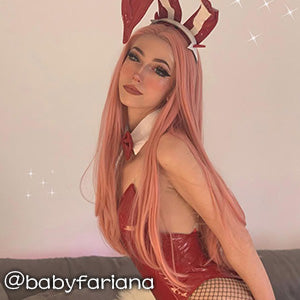 Product
Style Code: LW238B
Color: Pastel Pink
Cap Size: Head Circumference about 22" - 23"
Length: About 28"
Wig Type: Lace Front
Lace Type: High Quality Swiss Lace (1.5 inches)
Parting: Any Direction
Material: Synthetic Fiber
Heat Resistant: Up To 150C Heat Resistant By Heat Tools
Remarks
- Color that appears on your monitor could vary from the original color of the wig due to different monitor settings.
Amazing
The wig arrived in times and has a nice package and a wig cap (I was worried about it, sometimes there is no wig cap with the wigs). It really looks good and good quality, I can use it for everyday or cosplays and it's really cool. I now want to buy the same but in different colors ! For more pictures with it you can go on my instagram @elise_yumia
Pink wig
This wig is EVERYTHING, it is STUNNING, ICONIC, the lace is very beautiful, I love this wig! Thanks to WigIsFashion communicate with me when I was a little bit scare about the develery time and to answer to my questions.
Amazing wig!
I love this wig! The colour is so pretty it's what I wanted for my real hair but could never achieve without severely damaging my hair In the colouring process. The length is long and lush and actually looks incredibly natural. The hairline is also undetectable, the lace front making it easy to match to my own is fabulous. Can't recommend this enough and will be buying another one in a different colour too!
LOML
This is definitely my favorite wig so far. I love the length and overall feel of the wig! Definitely recommend buying this for the love of wigs.
Beautiful!
Such a pretty wig! It's super thick and a beautiful color! It does tangle after a little bit like all long wigs do, but it was super easy to brush out!
Epic Volume
This wig has a lot more volume than I was expecting, very nice colour and as always, very comfortable on my head. That being said, even with the volume I was able to put a hat on. The one thing to note is it's got a bit shinier than in the photo, but its fine in photos. All in all, im very happy
Apollo XXX
Fully nice wig
I'm really with this buy. Fully full hairs and a nice lacefront.