Wavy Black Lace Front Synthetic Wig LF110
Photos From Our Customers
>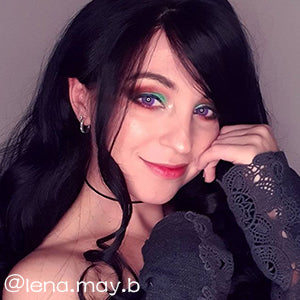 Product
Style Code: LF110
Color: Black
Cap Size: Head Circumference about 22.5" - 23"
Length: About 24"
Wig Type: Lace Front
Lace Type: High Quality Swiss Lace (1.5 inches)
Parting: Any Direction
Material: Synthetic Fiber
Heat Resistant: Up To 150C Heat Resistant By Heat Tools
?
Remarks
- Color that appears on your monitor could vary from the original color of the wig due to different monitor settings.

Amazing
Bought this to possibly use for Yennefer cosplay and to use whenever I feel like wearing a wig. It is amazing quality. I think only downside would be that it's a bit shiny but I feel like even that is nitpicking.
beautiful wig
beautiful wig identical to the description, natural color. used for my Yennefer cosplay
Thank you
Beautiful one!
Very full and dense, soft hair and a stunning intense black color. I can't imagine a better wig for my cosplay!
The curl is wonderful and very natural I almost can feel this wig is my real hair.!♥️ The light texture touch is in the middle of bright and matte finish. In love with this!! Perfect for my DMCV Nico Goldstein Cosplay ❤️
Black wig
I have bought a lot of wigs over the years and this is the first one that actually fits my head. I am in love
Black Lace Front Review
I have bought 4 wigs from this company in a 2 month time span. That's first off how much I like these lace fronts. This wigs is so gorgeous and bouncy with its curls. But for a cosplay I need it for I'll be straightening it. But it's definitely gorgeous and my sister loves it. It's her first lace front.
Perfect
This was my first lace front wig and I couldn't have been happier with it. I've owned a hundred different wigs and this one is fantastic quality. The fiber is not shiny like some black wigs have and it's really easy to detangle. With the soft lace it looks really natural and even though I have a fairly large head, this wig is super comfortable. Highly recommended!
SO good!
This wig is amazing, the style, colour and hair are all really good quality, I haven't had issues with hair shedding like crazy, or to much tangling! It's also not to shiny! Which is a major plus!
Beautiful wig
I love this wig! He's very handsome. Thank you.