Ginger Wavy Lace Front Synthetic Wig LW735
Photos From Our Customers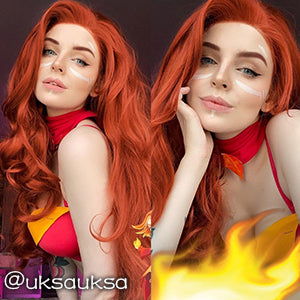 Product
Style Code: LW735
Color: Ginger
Cap Size: Head Circumference about 22" - 23"
Length: About 26"
Wig Type: Lace Front
Lace Type: High Quality Swiss Lace (1.5 inches)
Parting: Any Direction
Material: Synthetic Fiber
Heat Resistant: Up To 150C Heat Resistant By Heat Tools
Remarks
- Color that appears on your monitor could vary from the original color of the wig due to different monitor settings.
Disclaimer:
This wig by WIF is designed and produced specifically for cosplay purposes, inspired by various fictional characters. Please note that this wig is not affiliated with or endorsed by any of the original character creators or their respective companies.
Its my favorite wig of all time
This wig has been my favorite wig for years to the point where I have bought a second one. It has always made me feel beautiful and will never fail to make me feel like a princess on my Keyleth cosplay. I am always getting compliments and it held its curls for 4 years before me dunking it in the sea and not giving it the proper care afterwards caused me to buy an exact copy so I could have it back to its usual beauty. Couldn't recommend highly enough
Perfect!
It's a great intense auburn color and very silky. WIF always has good quality cap construction and durable fibers, so no complaints here!
Absolutely stunning wig
I bought this wig to upgrade my Poison Ivy cosplay and it was an excellent idea. This wig is a gorgeous,l and more natural red than I the wig I previously used. It is so comfortable, and looks like real hair. It has made my Ivy more of what I pictured her to be. Shipping was fast and the wig came beautifully packaged. I cannot recommend it enough
I always get compliments
Great wig for any cosplay, suits my side part naturally, I've been asked by many where this wig came from, after people compliment me and then I tell them its actually a wig. It has been my favorite wig! I even wear it in public as if my own hair. It is a realistic price for living that student life, but trust me, you'll love this wig. I always check and look at the photos so here is a few to help you decide.
Wig Review Ginger Wig
Nice quality! I used it for my Good Omens Cosplay.
I used it twice. One time long, one time I cut it short. I'm really satisfied with the product! Will order again!
PERFECT!!!
I love this Wig so much!
I've been looking for a new wig for Clary for a long time and this one is so beautiful! I can just recommend her!
The next wig will be ordered today 😂 is my fourth or fifth from the shop.
my favourite wig
this wig is STUNNING. it's the third wig i've bought from wigisfashion and while all have been amazing quality, this one is by far my favourite. i use it for a mary jane watson cosplay and it's PERFECT. the colour is gorgeous, it doesn't tangle easily and the length is amazing. people have even thought it was my real hair! i'll definitely continue buying wigs from this store.
Perfect for a Pond
This is my first lace front, and I use it for my Amy Pond cosplays. The color is perfect, and it doesn't tangle! I did trim it a bit to match Amy's hair better, but overall it's a fantastic wig, and I couldn't recommend it more!
Still my favorite wig
I've had mine for about two years and I'm still obsessed with it, they style perfectly, nice and soft, and the color is phenomenal. Always my favorite wig!
Still my favorite wig
The color is phenomenal!!! I'm in still fascinated with the color. Very easy to style, and you get a looot of hair in this wig which is perfect to start with. Recommended for sure!