Auburn Curly Bob Lace Front Synthetic Wig LF253
Photos From Our Customers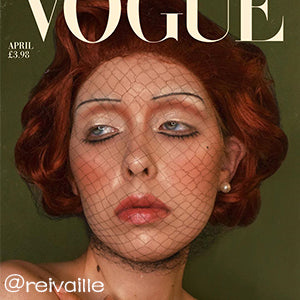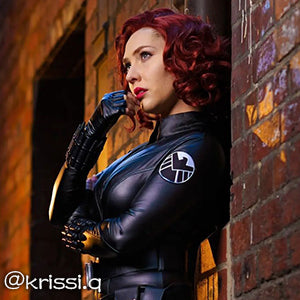 Product
Style Code: LF253
Color: Auburn
Cap Size: Head Circumference about 22.5" - 23"
Length: About 10"
Wig Type: Lace Front
Lace Type: High Quality Swiss Lace (1.5 inches)
Parting: Any Direction
Material: Synthetic Fiber
Heat Resistant: Up To 150C Heat Resistant By Heat Tools
Remarks
- Color that appears on your monitor could vary from the original color of the wig due to different monitor settings.

Disclaimer:
This wig by WIF is designed and produced specifically for cosplay purposes, inspired by various fictional characters. Please note that this wig is not affiliated with or endorsed by any of the original character creators or their respective companies.
Crowley Wig
Used it for two different Crowley Wigs.
The color comes out a bit more red like in the product photo but is still a very good option for this character.
The lace is very long and good to use for sideburns.
Amazing!
I love this wig! It makes me feel amazing!
So soft and light weight, very comfortable, and the color is just stunning!!
So many compliments!
I love this wig! It gives me a redheaded Marilyn Monroe look! I wore this to my company's annual party, and got many compliments! Only ran my fingers through it. :)
Really good
It is just the slightest bit more red irl but overall it's fantastic. The lace site very well, no shedding (as far as I've noticed), the curls are really nice and it's just fantastic.
Nice!
Lovely colour and great cap size. Styling was a little difficult but overall this wig was great, the lace front was good although had to be adjusted due to my hairline
Worth the price
As a cosplayer, I'm pretty cheap, I'll admit it. But paying extra for a wig this high quality is just worth it. I did quite a bit of cutting on it, but it didn't need too much styling; the fibers are high enough quality that they feel almost real.
Only downside is that the photo shows a bit of color variation which I was excited for, but in person the wig seems to be all one color. Still looks great though!
PERFECT Anastasia Wig!
I bought this wig last year for my Anastasia cosplay- it was super easy to style and pin into place and the lace was such great quality! The cap wasn't too tight, and it stayed on all night through a dancing and walking around the con! The color is also true to what's shown in the pictures! (the first picture is the wig in natural light, the second is in low light but the same general styling!)