Wavy Pastel Ash Blonde Lace Front Synthetic Wig LF101
Photos From Our Customers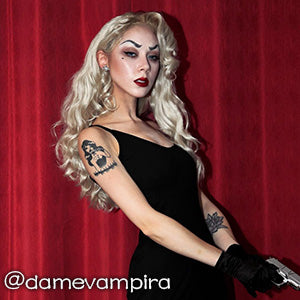 Product:

Style Code: LF101
Color: Pastel Ash Blonde
Cap Size: Head Circumference about 22.5" - 23"
Length: About 24"
Wig Type: Lace Front
Lace Type: High Quality Swiss Lace (1.5 inches)
Parting: Any Direction
Material: Synthetic Fiber
Heat Resistant: Up To 150C Heat Resistant By Heat Tools
Remarks
- Color that appears on your monitor could vary from the original color of the wig due to different monitor settings.

Disclaimer:
This wig by WIF is designed and produced specifically for cosplay purposes, inspired by various fictional characters. Please note that this wig is not affiliated with or endorsed by any of the original character creators or their respective companies.
Beautiful wig!
Beautiful wig! Great wig for my Daenerys cosplay. Nice color en good quality! Would definitely recommend!
Perfect wig for Daenerys Cosplay!
This wig was beautiful right from the beginning. After little bit of styling, it became exactly what I wanted it to be! Great quality and gorgeous color. I got a lot of compliments on it!
Magnifique perruque
Cette perruque est juste magnifique, fournie avec de belle boucles. Elle a été parfaite pour mon Cosplay de Daenerys. Douce au touché, pas brillante et très soigneusement emballé cette perruque est une pure merveille.
Gorgeous
I was a little worried about buying a wig online but am not disappointed. I need to learn to pluck and style the hairline better (me scared of stuffing it up) but am amazed at the quality for the price. Beautiful and soft, lovely tones and realistic for synthetic hair.
Beautiful, soft, and natural
This wig is lovely, with a natural soft feel. It's easily combed out and avoids tangles more than other brands I've tried.
I love it!
Delivery was quick, it came wrapped in a cute little box and cute pink satin bag. Everything was there that I asked for.
It feels so gorgeous, even after washing the wig, the waves stay beautiful.
It's perfect for my Daenerys cosplay I'm planning, I'm already being called Dany as I do wear it regularly. I'll definitely be purchasing again from WigIsFashion! 😻
The wig arrived on time, and absolutely beautiful and easy to handle. The hairline looks natural and the color is perfect!
Fantastic as always! -White Queen from Alice in Wonderland
I am never disappointed with WigIsFashion products! This wig is just as pictured, beautifully tied, and feels like real hair! It's absolute perfection and I can't wait to use it for multiple cosplays!
Absolutely epic Scandinavian blonde!
Found out this wig site via @lily_on_the_moon IG profile. She shared a pic of exactly this wig which got my attention, so ran through the site, took a look at the things and strongly thought which one to take since everything seemed to be awesome. Stayed with the primary idea of buying this one, recently got and... I'm absolutely happy! ♥️ Didn't expect to simply nail it with the color as I have practically the same hair color which on the box is named as Scandinavian Blonde. The wig itself is nice, it's also my very first lace wig, I absolutely enjoy it being as natural to the head as possible. ♥️ Since I don't have this long hair, people who don't know I bought a wig, but sees the pictures of me inititially thinks that I got some extentions. 😁 Anyways, nice ordering experience, also great packaging, looking forward to get other colors to some nice photos and makeups! 🤗