Straight Red Lace Front Synthetic Wig LF025
Photos From Our Customers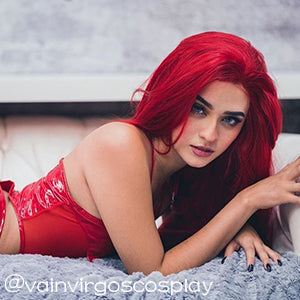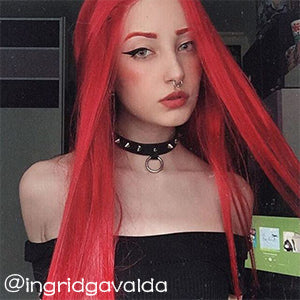 Product
Style Code: LF025
Color: Red
Cap Size: Head Circumference about 22.5" - 23"
Length: About 24"
Wig Type: Lace Front
Lace Type: High Quality Swiss Dark Lace (1.5 inches)
Parting: Any Direction
Material: Synthetic Fiber
Heat Resistant: Up To 150C Heat Resistant By Heat Tools
Remarks
- Color that appears on your monitor could vary from the original color of the wig due to different monitor settings.

Disclaimer:
This wig by WIF is designed and produced specifically for cosplay purposes, inspired by various fictional characters. Please note that this wig is not affiliated with or endorsed by any of the original character creators or their respective companies.
Beautiful, high quality wig
I've bought a lot of wigs from WigisFashion and honestly they've always been beautiful quality. This one is no exception, it's truly perfect! Looks just like the photo, it's nice & thick, excellent quality. I'm in love with the colour too.
Vibrant color!!!
This red lace front is amazing!!! Color is bright red as pictured and wonderfully thick! It's perfect for Ariel! I also used this wig for a Katarina (League of Legends) portrait shoot.
Poison Ivy Wig!
This wig turned up so fast! I absolutely adore it! It's thick, minimal shedding and the lace its sooo soft! Styles well with heated rollers or the steamer method if your hot tools are too hot (which mine are!) and it just is so comfortable! This is my first ever wig from WIF and ill be buying many more. The picture is the wig straight out of the box after cutting the lace and it already looked gorgeous!
What Surprise !!
The best wig !!!!
great hair texture, beautiful color alittle bit darker but so good , comfy and solid fastening clips. Looks really natural.
My Favorite Wig EVER !
@macarena_drag
Superb Quality and grea service too
Being in the UK I was worried about how long it would take to get the wig and any custom charges, plus there aren't any reviews for the shop outside of this website, but I needn't have worried at all because the wig arrived after only a couple weeks, there were no extra charges (there might be for you, I'm just saying there weren't for me) and the wig itself is gorgeous. If you lightly spray fibre onto it after each styling it fares better than any other wig I have. There's a lot of hair, it's perfect for getting cut by a hairdresser or yourself into whatever style you fancy, or just as it is. The colour is faithful to the photos, a lovely raspberry shade and the lace is good quality too. I'll happily buy more.
All time favourite
I've had this for a couple of years now, and it's still my favourite wig. Perfect red, perfect texture, perfect everything.
Fantastic!
Amazing wig, great quality!
Beauty wig
I am very happy with the purchase, i love you