Pastel Pink Wavy Lace Front Synthetic Wig LF084
Photos From Our Customers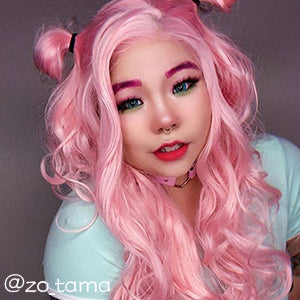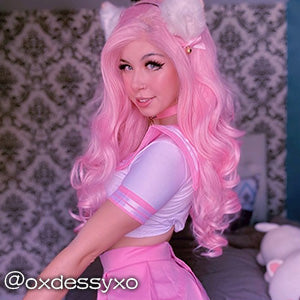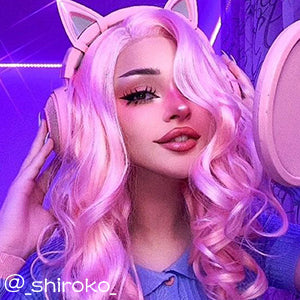 Product
Style Code: LF084
Color: Pastel Pink
Cap Size: Head Circumference about 22.5" - 23"
Length: About 26"
Wig Type: Lace Front
Lace Type: High Quality Swiss Lace (1.5 inches)
Parting: Any Direction
Material: Synthetic Fiber
Heat Resistant: Up To 150C Heat Resistant By Heat Tools
Remarks
- Color that appears on your monitor could vary from the original color of the wig due to different monitor settings.

Amazing wig!
This was my favorite wig for a fairy photoshoot! This felt really real and wasn't shiny even in the sun! See brxndo_the_commando on IG for more!
My Favorite Go-To Wig
I can't believe it took me this long to think about writing a review for this wig. This is my go to wig for about two years now and it's a wig essential in my collection. It's absolutely the perfect pink, easy to manage and brush, and I love the curls!! It adds so much life to every outfit I wear with it.
Beautiful pink wig
I love this wig legit my favourite wig ever! It looks pretty realistic and the curls are gorgeous! I've had this wig for over a year now and it's still my fav! See more @oxdessyxo on insta!
Great everyday wig
Wore this wig for the first time today since my hair wasn't working with me. Everyone thought it was my real hair and I got compliments all day.
Adorable!
I've always wanted pink hair but I've never been brave enough to dye my own hair so this is perfect haha! It's so cute, perfect shade of pink and super soft!
Love my pink wig
Absolutely in love with this wig. I use it for my fairy cosplay. It's comfortably and easy to put on.
Cute Wig
Great Wig.
The Wig works well for my Tonks Cosplay and the wig is absoult amazing for "Casual" Shootings.
The Lace lookes good :)
Pictures from: https://www.instagram.com/estrela_alylay/?hl=de
LOVE IT
One of my fav wigs. I love it so much! The lace is a bit dark for my skin tone tho. Instagram: Naomii_cosplay
Amazing wig
This wig was perfect for my photoshoot!