Jet Black Wavy Lace Front Synthetic Wig LF257
Photos From Our Customers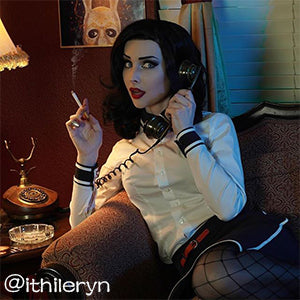 Product
Style Code: LF257
Color: Jet Black
Cap Size: Head Circumference about 22.5" - 23"
Length: About 16"
Wig Type: Lace Front
Lace Type: High Quality Swiss Lace (1.5 inches)
Parting: Any Direction
Material: Synthetic Fiber
Heat Resistant: Up To 150C Heat Resistant By Heat Tools
Remarks
- Color that appears on your monitor could vary from the original color of the wig due to different monitor settings.

It's held up and great for big heads!
I've had this wig for my Snow White cosplay for years and I've styled it and restyled it and it's held up great. I hate wearing wigs, but I never mind putting this one on because it's so comfortable I forget I'm wearing it. For me, that's saying something! I have a large head (23" circumference) and very long thick hair I have to shove under a wit cap, so most wigs don't fit me. When I do squeeze them on I just have to suffer for the look all day, but not with this one! I've had people on several occasions ask me if it's my real hair even in full Snow White cosplay.
Sooo amazing!!
I am totally in love with this wig! It is thick, comfortable to wear, the wig cap is big enough and it is soooo smooth!!! It looks very realistic and the fibers are just perfect!
Love it, definitely will buy this piece again. This time I used it for my Lady Dimitrescu cosplay :)
Snow White
Perfect for my Snow White costume
Beautiful black wig!
This wig looks so natural that my friends thought it was my real hair! I love the wig and it makes me feel like a femme fatale <3
Lovely
You brush it down neatly, floof it up, style it straight, do anything with it really. It's a beautiful, realistic wig.
Worth the money
This wig is absolutely gorgeous. The lace is nice and easy to work with. Bought for a Loki cosplay, and it couldn't be more perfect. The fibers are nice and soft. The wig could easily pass as the real deal if you know how to wear the wig correctly. 10/10, would purchase again.
Perfect Wig for Snow White
I wasn't sure how I felt about the widow's peak on the wig from the pictures online, but after I received the wig and tried it on you can see how perfect it was for my Battle Snow White Cosplay. The front lace and subtle widow's peak made the hair line look natural. Bonus: it was comfortable to wear all day!