Wavy Red Lace Front Synthetic Wig LF085
Photos From Our Customers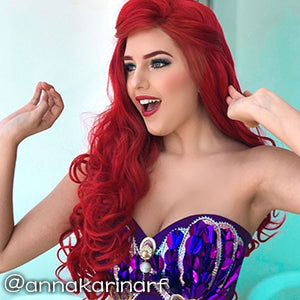 Product
Style Code: LF085
Color: Red
Cap Size: Head Circumference about 22.5" - 23"
Length: About 26"
Wig Type: Lace Front
Lace Type: High Quality Swiss Lace (1.5 inches)
Parting: Any Direction
Material: Synthetic Fiber
Heat Resistant: Up To 150C Heat Resistant By Heat Tools
Remarks
- Color that appears on your monitor could vary from the original color of the wig due to different monitor settings.

Disclaimer:
This wig by WIF is designed and produced specifically for cosplay purposes, inspired by various fictional characters. Please note that this wig is not affiliated with or endorsed by any of the original character creators or their respective companies.
The wig is absolutely gorgeous! I got it for an Ariel cosplay and I can't wait to style it a little. It definitely doesn't need much styling though!
Dream Wig!
I was looking at this wig for about 5 Months and when it went on sale I decided to bite the bullet. I absolutely love this wig, brushes out nice, very minimal shedding absolutely gorgeous texture! Perfect for many red colored haired cosplays!
Mera wig
I got the wig from a girl that sold me the Mera costume and i couldn't be happier about it being a Wig is fashion wig! It looks great on and I absolutely love it! Its natural, sits well on my head and don't hurt while wearing it for a long time!
Ariel
Perfect Ariel base.
Plenty of hair and easy to re-style.
I bought this wig twice now so I have a back up because I just really love it.
Perfect Ariel Wig
I bought this wig to use as an Ariel wig and it was perfect! I loved the wig so much that after Halloween I would style it differently and wear it all of the time. The lace was so easy to use and it looked so natural! I will definitely be getting another lace front wig from here!
Ariel Wig
Sur les photos je venais de recevoir la perruque donc elle n'est pas stylisée, coiffée et je ne suis pas en cosplay mais je suis très satisfaite de ma perruque. Elle est bien fournie et de bonne qualitée 🥰 j'ai hâte de faire mon prochain costume ! A voir sur mon Instagram @lily_hobbit 💕
The Best Ariel Wig If I Have Ever Seen One
My first purchase from Wig Is Fashion, and it was the best thing ever. Changed everything about buying wigs for me; I am unable to buy from anywhere else because I know WIG could never let me down! I bought this wig for a Poison Ivy Cosplay - and it was effortless! I brushed it out, loosened it curls, and it was still as voluminous ad sturdy as could be! Stunning color, next to no noticeable shedding, and you can't see the cap at all on it's wearer! Two years after purchasing and using it for myself, I let my friend use it for a theater performance of The Little Mermaid, and once again, I was stunned at how the wig was able to perform and last throughout crazy and hectic backstage scenarios! Forever pleased!