Brunette Wavy Lace Front Synthetic Wig LF321
Photos From Our Customers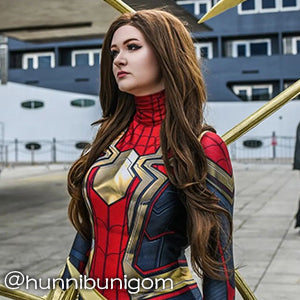 Product
Style Code: LF321
Color: Brunette
Cap Size: Head Circumference about 22.5" - 23"
Length: About 26"
Wig Type: Lace Front
Lace Type: High Quality Swiss Lace (1.5 inches)
Parting: Any Direction
Material: Synthetic Fiber
Heat Resistant: Up To 150C Heat Resistant By Heat Tools
Remarks
- Color that appears on your monitor could vary from the original color of the wig due to different monitor settings.

Great natural wig !!
This wig is the first I ordered and it's amazing ! I wanted a wig that looks natural and I am not disappointed at all. This wig is perfect, very good quality.
At last a real lace-front wig
Delighted to receive this wig and find that it is actually a lace-front wig as advertised. We have been very disappointed recently in ordering wigs from other sources that, although advertised as 'lace front', arrived and, to our disgust, were NOT lace front. Well done to Wigisfashion for sending what we have ordered.
L o v e. I t.
I am so happy with this wig. I have bought 4 wigs from this company now (3/4 i have received) and they are all amazing. This wig does need to be brushed out to get a fuller effect but the curls stay bouncy and overall it is very natural looking. I have always been afraid to buy lace front wigs but this company has changed that for me.
There has been no fall out yet and thanks to the large curls the wig does not tangle! Thank you for this amazing wig. ❤️
New favourite wig!
The wig is very nice! Looks natural with the highlights and overall a good pretty colour. Easy to work with and brush out after a full day at the con. In this case I used it for Katara in ATLA. Very happy with my wig!
Looks natural, but highlights too thick
I wore this wig for my Scarlet Witch cosplay. So many people at the convention thought it was my real hair! While I like the color, length and curl, I think that the blond streaks are a little thick and should have been spaced out a little more. Wig is very soft and not as tangled after I thought it would be after wearing it all night at a convention.
Perfect!!!
Love the colour variation in the wig, makes it looks very natural. Great quality lace, great quality cap. Happy with it all!
Beauuutifulll
I love that it's super long and layered, and has some pretty, subtle, golden highlights in it. I've worn it out for hours before while it was super windy outside and it barely got tangled.
Gorgeous!
One of the most beautiful wigs I own, so thick and soft! The locks are very long and look amazing.
I LOVE IT
For my first time ordering from wigisfashion, it definitely will not be the last time! This wig is gorgeous and super natural looking! I bought it for daily use and I do not regret it!