Straight White Lace Front Synthetic Wig LF387
Photos From Our Customers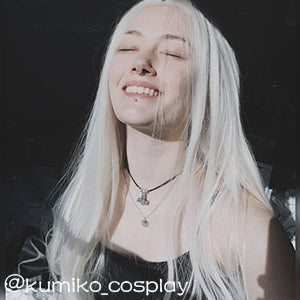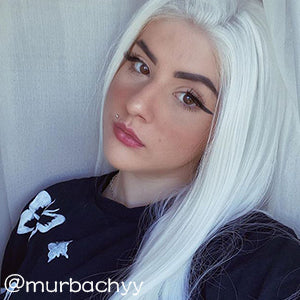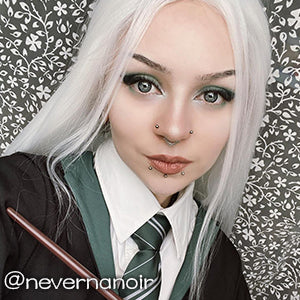 Product
Style Code: LF387
Color: White
Cap Size: Head Circumference about 22.5" - 23"
Length: About 24"
Wig Type: Lace Front
Lace Type: High Quality Swiss Lace (1.5 inches)
Parting: Any Direction
Material: Synthetic Fiber
Heat Resistant: Up To 150C Heat Resistant By Heat Tools
Remarks
- Color that appears on your monitor could vary from the original color of the wig due to different monitor settings.

Beautiful
My first lace front and I absolutely love it!
Amazing
Wonderful wig that looks good, is thick enough but is lightweight,and doesn't tangle easily.
Beautiful
The Wig has a super beautiful Hairline.
She is super soft and looks really nice - The length is perfect for me
Really nice wig
I really enjoy this wig, it feels soft and doesn't get too tangled. My only complaint is that it doesn't actually part in any direction as you start to see the tracks. The lace is nice and the colour is amazing. Very white, looks exactly like the picture
Fabulous wig
The quality of this wig is exceptional. It feels so glossy and thick. Every one at work wanted to try it on and said the same thing.
Very Nice!
Love this wig! It has a nice hairline and good length to it. It's a nice thickness and easy to work with. The fibers aren't too shiny and it's very soft.
My one thing would be, definitely make sure you have a skin colour wig cap, as dark ones will show through at the hairline.
Beautiful lace front
The lace front part is big and perfect for styling different ways. A really great price too!
Super soft fibres and natural hairline!
By far my favourite wig, it's super soft and barely gets knotted!, which is always a problem with the wigs I get.
The density is perfect and can usually pass off as if it was your actual hair
Very nice!!!
The fibers are as soft, pretty, and lightweight as I've come to expect from WIF. I do with this wig had a widow's peak, but I already knew it didn't when I bought it, and there's plenty of lace room to cut one. The white fibers in the lacefront don't quite cover my dark red hair with a net + nylon wig cap layering, so I feel like a bald cap will be needed to make this look properly right. I haven't gotten the chance to style it yet, so here are some photos straight after cutting the excess lace, no styling!
Best hairline
This is a great wig to use for Black Cat cosplays. It's got the best lace hairline of any wig I've owned. Obviously that tends to vary with skin tone but as I'm a pretty average white skin tone I'd definitely recommend it. I was concerned as a natural brunette, I may have to spray my hair underneath so as not to ruin the white look, but you can't see my hair at all.
Really pleased with my purchase!