Wavy Blonde Harley Quinn Synthetic Pink Blue Ponytail Lace Front Wig LF853E
Photos From Our Customers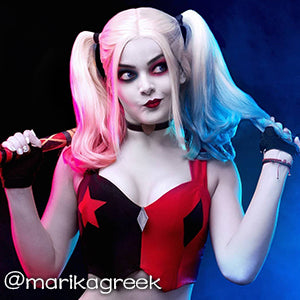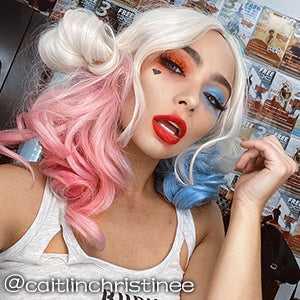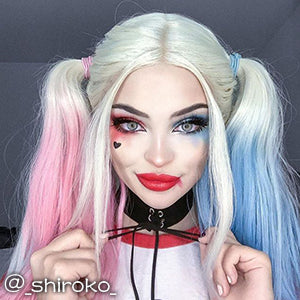 Product
Style Code: LF853E
Color: Blonde With Pink Blue
Cap Size: Head Circumference about 22" - 22.5"
Length: About 12"
Wig Type: Lace Front
Lace Type: High Quality Swiss Lace (1.5 inches)
Parting: Centre Part
Material: Synthetic Fiber
Heat Resistant: Up To 150C Heat Resistant By Heat Tools
Remarks
- Color that appears on your monitor could vary form the original color of the wig due to different monitor settings.
Perfecta para Harley!
La peluca funciona perfecto, las coletas lucen naturales al igual que la parte frontal, el color es acertado. Soy de México y llego sin problemas.
Estoy encantada!
ig: valery__rivas
I Love this wig Used for Harley BOP aswell
I love this wig, it's so thick and the colors flow nicely from light to the right color
Great wig!
The wig is excellent, comes very nicely packaged and the colors are perfect! Very easy to take down and restyle, stays up, and fits well to look realistic. Good quality and looks amazing, worth it!
Perfect for cosplayers
This wig was flawless and perfect for cosplay! It was wonderfully thick and vibrant, just like Harleys.
Such an amazing wig!
Got this wig to replace an old Harley wig I was gifted with and it's absolutely stunning! The lace front makes it really believable and it's so bouncy and fun!
⭐⭐⭐⭐⭐
So fun and cute! I absolutely love it!!!
Cute wig!
So cute and soft! I love it!
Beautiful
Its beautifully perfect, nice quality, and elegant packaging. A 10!
Delivery time
I ordered my Harley Quinn wig oct 2 due to it saying it will be here in 10- 15 business days. I couldn't track my package and wasn't getting message updates. So I began to worry. I messaged them asking where it was and yesterday oct 13th they send me a message saying it's now on back order they won't have their order in to make it till early next week and then it will take time to be shipped. They said it most likely won't make it I. On time and that I can upgrade my shipping for 14$ that they will only take 2$ off my shipping. I feel that if I am spending $80+ On a wig the cap and lace tape and purchase my product in the time it says it will be delivered it should be there at that time. And if not update me immediately so I can see about changing me shipping or have time to order else where. I'm highly disappointed they didn't at least offer to have the fastest delivery option cost covered on their on expense due to the problems I have faced. I was very excited about my wig and telling friends and family about how nice the wig looks online the price and the shipping time. But now I have a bad taste in my mouth and just want my money back I just ordered 2 wigs and a cap for less on another site for less and Now I'm crossing my fingers that it comes in on time. I hope they make it a priority to compensate the customers better in the future
Hi dear, the wig LF853E you purchased is a backorder style, which needs around 15~35 working days for production. That's the reason we could not send it promptly. Anyway, we have pushed our supplier again and will try to expedite it. Once the item is completed, we will send it to you immiedately, appreciate your kindly patience on this, thank you!