Light Blonde Straight Lace Front Synthetic Wig LF269
Photos From Our Customers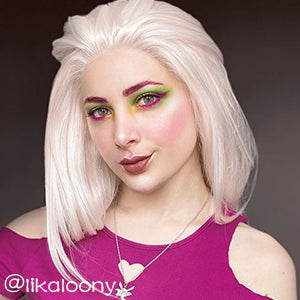 Product
Style Code: LF269
Color: Light Blonde
Cap Size: Head Circumference about 22.5" - 23"
Length: About 16"
Wig Type: Lace Front
Lace Type: High Quality Swiss Lace (1.5 inches)
Parting: Any Direction
Material: Synthetic Fiber
Heat Resistant: Up To 150C Heat Resistant By Heat Tools
Remarks
- Color that appears on your monitor could vary from the original color of the wig due to different monitor settings.

It's great quality
Spouse loves it for her character. We don't like how it was thin up top though and have to use an additional wig grip to hide the parting. But other than that it's great.
Perfect for Android 18 cosplay!
A few months ago I purchased this beautiful wig for my Android 18 cosplay!
It looks really natural and silky <3 made me look like a real blonde despite being originally a brunette.
I did a little bit of styling to it for this cosplay and I'm happy with the results :D
If you're into cosplay, this is your perfect choice for this character!
So gorgeous
I'm in love with it! It photographs beautifully and it worked out perfectly for my Android 18 cosplay.
Amazing Wig
The wig has a amazing quality, is super soft and thick. In other words just awesome
Fierce!
Superb wig! Really thick and dense like the other one I bought from WIF. Easy to cut and style and perfect for drag artists. Pretty good lace as well. It was a little bit uneven in the front but that can be adjusted by pulling the wig.
All in all you really get a lot for that price. Recommend!
So natural!
looks and feels natural! love it!
Love it
Such a vibrant platinum blonde that doesnt look fake and the wig itself is very thick and the combs in the wig cap make for a more secure wig
stunning wig, incredible quality
a little thick for my taste at first, but once styled and parted, it's beautiful and sits very nicely! the colour is a striking true platinum blonde, the fibres are so silky smooth and the hairline is very natural-looking. the durable & ridiculously tangle-resistant quality makes maintenance easy. it's by far the best synthetic wig i've ever owned, the affordability deeply surprised me!
Beautiful fibers
This wig has a lovely, BRIGHT natural white-blond/platinum color in person. I felt like a monster trimming it down (i needed a slicked back undercut style for the costume I purchased this for) but before doing so, I had to take a few moments to simply run my hands through it because the fibers were so soft and silky. I've never had a better time brushing through a wig than this. You almost couldn't PURPOSEFULLY tangle it!
The only photo I have is from the very end of the day I wore it out for a small gathering at a park so please excuse my receding hairline and eyebrows! I hadn't gotten the hang of my lace front tape yet!
Used for Android 18 cosplay
This wig is really soft and beautiful. I used it for my Android 18 cosplay (see @LadyAsheXII on Instagram for more photos in different lighting - https://www.instagram.com/ladyashexii/ ).
I did cut the wig, heat train a side part with a hair dryer, straighten it several times (lowest heat setting), and tease the heck out of it. It took the heat and styling very well, still looks great, feels soft, and now it's my favorite wig to wear. =)