Auburn Wavy Synthetic Wig NS037
Photos From Our Customers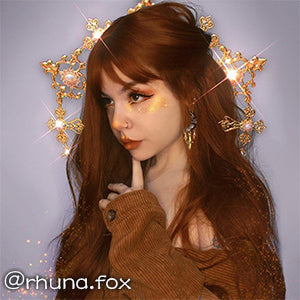 Product
Style Code: NS037
Color: Auburn
Cap Size: Head Circumference about 22" - 23.5"
Length: About 24"
Material: Synthetic Fiber
Heat Resistant: Up To 150C Heat Resistant By Heat Tools
Remarks
- Color that appears on your monitor could vary from the original color of the wig due to different monitor settings.

Gorgeous for photos!
This wig gives a completely different look from what I'm used to in the color department. I had to cut a little bit more into the bangs but the original bangs made an awesome template for where to stop cutting so it wasn't difficult for me at all. If you cut a larger section of bangs, it's easiest to use a steamer or a curling wand to press the hairs flat to the scalp! Then it'll like just fine! (Second photo is most color accurate I feel)
Amazing wig !
Just amazing and natural wig ! The color is so beautiful and the shipping was fast ! I'm happy :) !
Such a Beautiful & Soft Wig!
This wig is so nice and soft and it rarely tangles for me! Also the curl is so cute and natural looking! I'll be recommending this wig & style to everyone! Its also the least itchiest wig i own!
Most beautiful ever
This wig is amazing, looks real, at hairline too. Soft, beautiful color! It took 1,5 months to receive cause of xmas holidays, but absolutely worth the wait. Great quality and comfortable to wear.
ABSOLUTELY LOVE THIS WIG
This wig looks so natural that no one knew I was wearing a wig. It's super soft, with gentle waves.
My only complaint would be how much hair falls out when you brush it, hopefully it won't be too noticeable as the wig is very thick.
I cut more of a fringe into it and it sat perfectly in place without any further heat styling. I could wear this every day without any trouble, and it's so convenient that you don't need to pin or tape the wig in place
Superb
Very special and almost like real hair