Ash Blonde Wavy Synthetic Wig NS061
Photos From Our Customers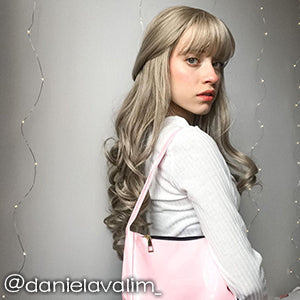 Product
Style Code: NS061
Color: Ash Blonde
Cap Size: Head Circumference about 22" - 23.5"
Length: About 23"
Material: Synthetic Fiber
Heat Resistant: Up To 150C Heat Resistant By Heat Tools
Remarks
- Color that appears on your monitor could vary from the original color of the wig due to different monitor settings.

Beautiful, high quality wig
I had previously owned a from WIF, and was a little skeptical because I thought the normal wigs were lower quality than the lacefronts, and this partiular wig had no reviews and was on sale at $29.754, and they shut my mouth. The wig is soft, not shiny at all and exactly as described. It looks very natural and the color is really pretty too! I admit is a little darker than what I need it for, but it's exactly what I was expecting. I also ordered wig tape.
What really surprised me is the packaging; the first time I ordered from them was in 2015, when they had just started, and the wig was shipped in a regular shipping bag with its net and filling paper. They have really improved their presentation and I am in love!
Amazing quality
Amazing wig, super easy to use for cosplay or everyday lifestyle! The quality is awesome and the color is perfect !!
Cute Wig!
This wig is a nice golden blond colour that looks quite natural. It's a comfortable and well-made wig however it is quite shiny in front of a ring light. Added bonus is that it's super soft, so good! I bought this with the intention to cosplay a female Fatgum but used it as a temporary Denki Kaminari wig.